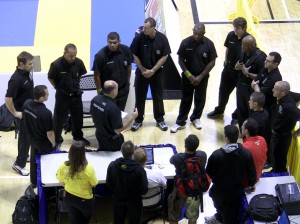 What: IBJJF OFFICIAL RULES & REGULATIONS SEMINAR IN SACRAMENTO
With: Professor Alvaro Mansor, 5th Degree Black Belt, and the Director of Referees for the International Brazilian Jiu-Jitsu Federation.
When: SATURDAY OCTOBER 8 2011, Noon-4pm
Where: Team Cia Paulista, 1106 North D, Unit 1, Sacramento CA 95811 (Off of I5, Richards Exit, Cross Street Dos Rios)
About: Prof. Mansor will present a 4-hour seminar course for Black and Brown Belt Referees and all students of BJJ preparing for competition or seeking to improve their tournament strategy and results, and gain further understanding of the rules and regulations of the sport.
The seminar will be held on the mat, and technical demonstrations and detailed examples and presentation will be given.
Attendees are encouraged to take notes and photos. Please, no video recordings. There will be a Q&A segment with Prof. Mansor.
The official IBJJF rules are here: http://www.ibjjf.org/rules.htm
Certification will be given for belt levels who are authorized to referee.
Note: This is the same seminar that will be offered in San Jose Friday before the US Open weekend of October 15 & 16.
OPEN TO THE PUBLIC, ALL ARE WELCOME TO ATTEND.
Inquiries: Email Team@TeamCiaPaulista.com
MANY THANKS TO PROFESSOR ALVARO MANSOR FOR YOUR TEACHING AND SHARING YOUR KNOWLEDGE WITH US!